An Insider's Guide to Playing Slot Machines Online

100% match bonus based on first deposit of £/$/€20+. Additional bonuses.
Slot machine… meaning? Slots are officially the most popular online casino game. A lot of people around the world enjoy playing slot machines immensely and, although many lose, no-one really complains (What is a Random Number Generator and How Does it Ensure Total Game Fairness?). Recently a man out of town visiting Las Vegas with a friend bet $20 out of boredom and after 5 minutes won a $14,282,544 jackpot. One of the names that may ring a bell is Mega Moolah, which is known for colossal jackpots. What is a slot machine? Why have they picked up so much popularity over the years? And, more importantly, how do people win?
Slot machines go by several names. They are known as "one-armed bandits", "fruit machines", "poker machines", "pokies", "gambling machines" or simply "slots".
A slot machine is a gambling device which displays reels and paylines. Modern slots have 3, 5, more rarely 4 reels and up to a 100 paylines. Slot machines are famous for huge winnings they periodically provide for one lucky guy who had to do nothing more complicated than, for example, pull the lever at the right time in the right place.
As soon as the player places his money in the coin/bill acceptor and presses the corresponding button on the screen to place his bet and clicks the "Spin" button the reels begin to spin. The main purpose is to hit a winning combination on the reels and receive a payout. A winning combination is a combination of certain symbols on a payline or on the reels.
First things first, now that we have a (very vague) idea of what a slot machine is, let's breeze through a short list of their types (don't worry, there are only 1162).
Today all gambling slot machines use RNG (a Random Number Generator) in order to guarantee fair results. This is patented technology installed in casino's hardware (software in case with land-based casinos), which is (in respected establishments) regularly audited for integrity by independent quality watchdogs companies like Ecogra.
That means that the next combination that appears on the screen is completely up to chance – it can be 10 000 000 or zero with exactly the same probability.
There are rules, and, just as you wouldn't play chess without knowing how figures move, in order to be successful you have to be familiar with the rules of the game. To play slots gamers use certain buttons and options.
Let's examine all of them.
How Does a Slot Machine Work? Here's a quick glossary of terms: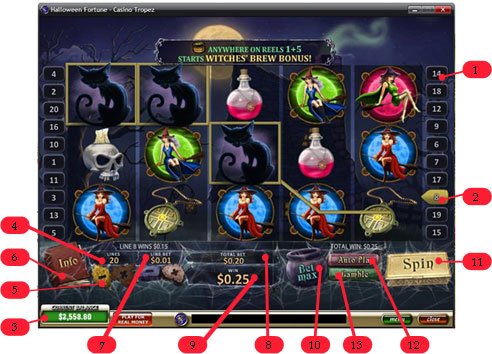 A Payline goes over one symbol on each reel on a slot machine or a combination of them. If a Player has made his bet on this payline, he wins.
The Payline Wins Window shows what payline or paylines have won.
Coins /Current Balance/Balance Window shows the player's current balance. After each spin the balance changes.
Lines window is an indicator which shows how many paylines are active (the number of paylines the person is playing)
Select Lines button or +/- buttons allow the player to change the number of paylines.
Paytable/View Pays/View Payouts/Info/Help is the button that allows the player to move to the second screen to see the combinations of different symbols that give out payouts.
Line Bet is a window that indicates a bet per payline. Bet Per Line/ Select Coins or +/- buttons allow the player to choose the number of coins to suit him/her.
Bet/Total Bet window shows the size of the bet.
Win shows the size of the payout (if the player has won) after each spin.
Bet Max/Max is a button which activates all the paylines and spins them automatically. By clicking this button the player bets the maximum number of coin on all the paylines.
Spin button allows the player to spin the reels.
Autoplay button allows the player to set the number of spins which will be spinning automatically. Sometimes Autoplay is hidden under the Expert (in case with Microgaming), Menu (in case with Playtech) buttons.
Gamble is a button available in some slots which has the Gamble Game bonus feature. Gamble becomes active after every win and gives a player a chance to increase the win.
A 5-Reel Slot Paytable: A Quick Guide To Slot Machine Symbols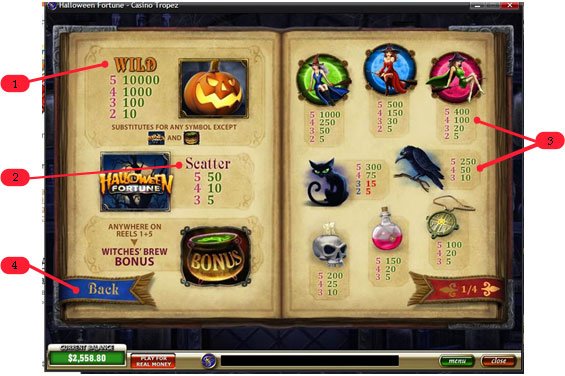 Wild/ Substitute is a symbol that can substitute for almost all other symbols in order to create a winning combination. The wild usually cannot substitute for a scatter and a bonus symbol.
Scatter is a symbol which gives payouts given that there are two or more scatters anywhere on the reels. This means scatters don't need to be aligned left to right on a payline like any other symbols to win or be in any particular order.
Payout is the number of coins paid out for a different number of identical symbols on a payline. To count your win you can multiply the number of coins and the coin denomination you are playing. For example, if your bet is $0.01 per payline and there are 3 Crows on an enabled payline you will win $0.10 because 3 Crows pay 10 coins (see the paytable), $0.01*10=$0.10.
Back/Game is a button allowing the player to return from the paytable to the game screen.
NB: besides described options and buttons there may be other buttons and options such as Stop, Payline patterns, Bet One, etc that are self-explanatory.
Stop button gives the player an opportunity to stop spinning the reels when the player likes.
Payline patterns show how paylines are formed in the game.
Bet One button is available in classic 3 reel slots and allows the player to set the number of coins for a spin.
In a land-based casino slots have buttons which have the names different from the online ones. You can see such buttons as Bet One Credit, Bet Max Credits, Cash Out and others.
There are actually many variations of slots and companies that house them. Knowing what you are doing is very important. For example, it is imperative you know when to stop and budget your money well to avoid ending up broke (yes, it happens), or even worse, letting down friends, colleagues and family members. So for a (brief) list of recommendation you must stick to go here. And take good advice seriously. People always say: "It won't happen to me". Ask anyone in the industry and they will tell you casinos make their living making sure it happens to you. Be safe!
Beginning: How To Play Slots To Win (For Dummies) | Slot Machine Rules
Of course, you're not a dummy. There's no such as thing as loser or winner, stupid or smart. Just trained or untrained, educated or uneducated. But truth be told, coming into the game not knowing the hidden reefs can be a regrettable choice. How to play online slots properly? One of the first things to do is to make sure you don't miss any of the essential first steps because that's how most mistakes are made.
Now, you already know what a classic slot machine is. You win if you make three symbols line up in the middle. However, with time, slots, like everything else in our society, evolved rapidly, and now there are many forms of them. As far as winning lines are concerned, they don't need to be in a straight line. Symbols can be lined up in a zigzag, in a diagonal, in top or bottom row. Just in case you think you may not be able to keep up with all the winning combinations: don't worry. Every time you win, you get notified.
Paylines explained
If you eventually want to know how to play slots in Vegas with many, many, many more than 100 Paylines, get this first.
Usually there are nine to thirty paylines on a machine, although there may be more. You get to choose a payline, and if – only if – you activate it and it bears a winning streak – that streak will be awarded to you. Symbols, in fact, don't even have to be situated next to each other. But remember that you have to activate that payline, otherwise winnings will pass you by.
People have considerations, such as how many lines to bet on, for example. It's understandable. After all, online betting is all about strategy. There are good decisions and bad decsisions to make.
In this example (100 Paylines, 100 ways to win), your chances will depend on how many paylines you choose to bet on. Choose one – and they're pretty slim. Choose 100 – and you'll come to the end of your bankroll pretty quickly. Would you win more if you bet on more paylines? How do you calculate probability? There are very complex systems in place that calculate probability and house edge, but one thing is for certain: it's never a good idea to bet everything in one go, so be aware of the point when gambling start to control you rather than you controlling it.
If you're playing for fun and have money to spare, using just one line probably wouldn't seem very interesting after a while. The sensible choice lies somewhere in the middle. There's no golden rule as such other than to budget responsibly (drive in the right lane, point the gun barrel away from you when shooting, that kind of thing…).
Important: The recent upgrades mean that the option of choosing the number of Paylines is now limited or non-existent. For example, in NetEnt this option is practically gone, and the slot you see above does not have the option. MicroGaming and other platforms are also implementing this strategy. Companies state that players don't use that option because it's not interesting.
Wild Symbols
Wilds are gambling world's little puff cakes of delight. In short, as it's already been mentioned, these are symbols that come in and substitute for any other symbol. So imagine your surprise when you hit just two strawberries and a Wild – and the winnings are yours!
Kind of the same way that a Joker can substitute for any card and completely turn a predictable game into a completely unpredictable one, Wilds are kind of like celebrities surprise-crashing a party. Look out for one, and, what's more, there can be more than one wild. The more of them there are, the more wins they generate, and, in fact, on some machines, getting all five wilds in a row will get you the top prize.
Make sure you check in the paytable, however, what their worth is and what they can do because in some machines Wilds alone may not mean anything. Also make sure you check out the paytable because of recent developments in the field that caused things like Expanding Wilds, Stacked Wilds, Wandering Wilds. Wilds are getting so creative, soon there will probably be a documentary about one ("Born Wild: A Reel Story…").
How To Handle Scatters
If you're really into you time-on-device, Scatters are just for you. Most often Scatters unlock Free Spins, but they can also do Bonus Rounds and Coin Prizes. Three scatters will get your win (anywhere, and not just on a payline but anywhere!). One last staggering feature of a Scatter is when they produce Multipliers (2x, 3x and so on) of your winnings for the whole round.
Making Your Bet
Before you start, notice that in order to simplify the currency conversion procedures and everything else each country's currency is usually displayed as 'coins". So, 4 coins you bet in the US will be vastly different 4 coins in the UK (respectively 4 Dollars and 4 Pounds Sterling).
…So this is actually how to play online slots for beginners:
Decide on the best amount. The higher the bet amount, the higher the potential winning. There is a minimum and a maximum, which will be highlighted.
Choose the amount of paylines. The most important thing here to memorize is that the bet amount is only per one Payline. For example, if you bet 2 coins on 5 Paylines – that's 10 coins you're betting in total, not 2.
Two of the most fundamental concepts in online slots
Now that you have braved the endless plains of necessary, although dull, basic knowledge, it's time to try to conquer the rough seas of the concepts of Return To Player, or RTP, and Hit Frequency.
These are the two basic concepts you need to completely understand slots. You can put together a pretty accurate picture of how useful a machine will be for you if you take these two into consideration. Both of these are based on a single machine. Picking games is easy when you know these.
Random Number Generator(RTP)
Most players think that they have it down (haha, think casinos, no, you don't), and that's how it is that no matter how many times you win, in the long run you always leave more money in the casino than you get out. So how does that happen?
RTP is the amount of money that comes back to the player. The higher the RTP, the more chances you have of winning.
The rest (typically about 10 percent or so) is how the casino makes its living. On paper.
First of all, RTP is calculated in the long run. So basically it would be wrong to think that if you put $100 in a machine an hour later you will get $90 back. That $90 will be left to accumulate in a machine and at some point some lucky guy will get all of the other guy's $90's put together over what can be a few years or a few months or a few days – in one lump sum. The money that players put in the machines do come back – but not to an individual player and not at once.
Slots on average pay out 92% of they money players bet. That, however, is stretched over a machine's lifetime, which means that really, it could be a very long wait getting your money back (or an extremely short one, all thanks to RNGs).
NB: One point to be made here is that RTP is much higher in online casinos than in their land-based counterparts because they don't have the fancy architecture and staff base, so they have to attract clients with something. That means 70-80% in land-based and 90-95% in online casinos.
Regarding extracting money out of the machines faster, there have been many systems designed to beat The System, and so far there isn't one in place that would allow to accomplish that. For that matter, many betting systems have been designed and sold to players to encourage them to play and lose more thanks to a false sense of security that would result in reckless playing and more money lost. Budget responsibly and keep a cool head!
Hit Frequency
Hit frequency is the amount of times the machine will hit the winning combination. For example, if a machine's Hit Frequency is 25%, it wins every 1 time out of 4. Average for online slots travels mostly between the boundaries of 10 and 30%.
The Winner Takes It All
When everything is prepared, double-checked and investigated, it's time to hit the Spin button. Playing Slots is quite a theatrical show in itself, and there is a reason why it attracts so many moths to the flame (and we're not talking literal moths…by the way, they can be really annoying). Last teary-eyed reminders before you go (they grow up so fast!):
Don't forget you can change betting parameters between spins to alter your strategy. Be responsive to your gameplay, and alter your strategy.
Remember that, no matter how prepared you are, you should always be careful about your budget, do your research carefully and only choose trustworthy casinos and reputable people.
And, yes, it's boring, but still it's worth reading at least the main part of "Terms and Conditions": just so that there are no unpleasant surprises.
A few FAQs about how to play online slots:
How to play the slots on Max/bet on many Paylines and will it be good for me?
True, the payout will be more grand if you bet more. However, you will only notice this effect on big winnings, which don't happen that often, and you still invest more to play, just like with multiple bets.
I can play online for free, which is harmless and fun, right?
If you consider gaming with no payout fun, very much so. However, sites that offer free play often design their games in such a way that winning becomes easy, creating a false sense of security, especially in children and young people, which can be really dangerous when you play for real money. You have to bear that in mind when you play, and carefully watch the line between passion and obsession.
I'm an avid gamer, so I'll be great at video poker, correct?
Skills acquired in video gaming have no relevance whatsoever to online gambling. Gambling world has its strategies and strategists, but that is a completely different industry, one that leaves great many more people disappointed in it than exasperated by it. And before anything else it is a business.
How to play penny slots?
Decidedly anyone can play Penny Slots Machines, because the investment size is – you guessed it – a
penny
. Despite their humble name, these machines award real, often massive, jackpots.
What about progressive jackpots?
That doesn't mean talking Japanese dog robots, water from Mars and quantum particle acceleration. Progressive slot jackpots are generated with small contributions from players in the same casino (or sometimes from all casinos in the city, or, in case with a Global Jackpot, from all over the world). The progressive jackpot, built by all players and displayed on the screen, keeps growing until someone gets it.