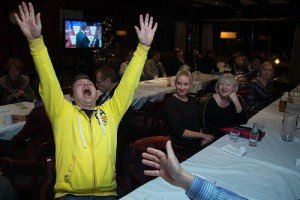 The world of online gambling is full of great stories – people winning huge jackpots, players striking it lucky, gamblers coming back from bad losses to get their money back (and more on top) – but none have captured the imagination of the general public in the United Kingdom quite as much as a recent story concerning a soldier, who won a massive jackpot from a tiny initial bet when gambling online.
The soldier, Jon Heywood from Cheshire, had toured Afghanistan and was working in the United Kingdom when he won the money. Not a usual gambler, Mr Heywood had 25p lying dormant in the account of his favourite online casino, and figured he may as well spend it by making one final, small bet. Little did he know that this bet would win him a grand total of £13.2m, which makes it one of the largest payouts in the history of online gambling and online casinos. In addition, it could be the largest singular jackpot ever paid out for an online slot machine, but this is yet to be confirmed by the authorities.
So what's Mr Heywood going to do with his new found fame and fortune? He's told the press that his first major purchase will be a new car – a Bentley Continental GT in yellow – to replace the clapped out Fiat Punto he currently drives. Other than that, Jon has said that he will pay for the medical treatment that his father so badly needs, as he is waiting for both a heart and a lung transplant, without which he may not survive. He will also treat all of his family and friends to a lavish Mediterranean cruise to celebrate.
This kind of jackpot shows that even those who don't regularly gamble online can stand to make huge winnings from doing so, even on bets as small as 25p. As one of the best casinos online, we have great jackpots on our slot machines, and who knows, maybe you could end up a winner like Jon?