Roulette playing guide by American Roulette
Best 6 online casinos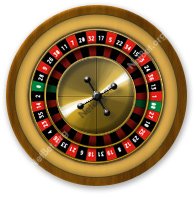 American Roulette is younger than French and European roulette, it appeared about 150 years ago. It is very like European roulette, the main difference is a wheel with
38 numbered slots
. The numbers are "0", "
00
", and again 36 numbers in non-sequential order. The numbers from 1 to 36 can be either black or red while the "0" and "00" are green. The player must first make a wager (see Roulette bets for more detailed information) on any number or set of numbers, colour or some other things where the ball he believes will land. It's worth noting that the
house edge
in American Roulette is a bit
higher
than in European roulette.
Many casinos allow players to play the game in free play mode.
The biggest disadvantage is the house edge in American roulette which is 5.26%. I'd like to remind of the fact that European roulette has a 2.7% house edge that is 2 times less than in American Roulette. So, just an American Roulette is more beneficial for the casino.
The American roulette offers two additional bets - Five bet on 5 numbers covering numbers - 0, 00, 1, 2 and 3 with 6:1 payout, and Zero split – 0 and 00.
Note: double - zero roulette, house edge - 5.26%
The sequence of the numbers on the American wheel differs from the European one. It is:

Game Payouts
| Roulette Name For Bet | Nature Of The Bet |
| --- | --- |
| Straight Up | 35:1 |
| Split | 17:1 |
| Street | 11:1 |
| Square | 8:1 |
| Five-Number Line | 6:1 |
| Line Bet | 5:1 |
| Column | 2:1 |
| Dozen | 2:1 |
| Even-Money | 1:1 |
When you play American Roulette, your aim is to predict the number the ball will stop. First you have to place a bet. To play you have to click Increase (+) or Decrease (-) buttons and select the chip size you want to bet. Then click the Spin button. The ball is dropped on the roulette wheel and then stops. If you have a winning number, your win amount will display in the Win box. If you lose, the game is over and you can start again.
Today all main gaming software development companies offer American roulette. Playtech offers two games - American roulette and Premier American roulette.
You can place different bets which are divided into Inside and Outside. Each bet has a maximum betting limit. Below there are regular American roulette bets and odds they offer.
Play American Roulette for Free