Online Roulette table layout
Best 6 online casinos
There are two variations of Roulette - American and European, that's why there are two varieties of Roulette table. They are almost the same, with some differences.
Roulette is played at a specific green table which has a roulette wheel at one end of the table. The table has different boxes for bets. There are 36 numbers and the 0 and 00 (in American roulette) on the table and on the wheel. And the colour of the numbers can be the following:

 1, 2, 3, 4, 5, 6, 7

 0, 00

 1, 2, 3, 4, 5, 6, 7
The roulette table is divided into two parts for different roulette bets. That part of the table which has the numbers from 1 to 36 and 0, 00 for Inside bets.
Outside the grid with numbers there are boxes for Outside bets that cover up to 12 or 18 numbers at a time. You can also read about the house edge and odds for the different bets before starting the game.
American Roulette Table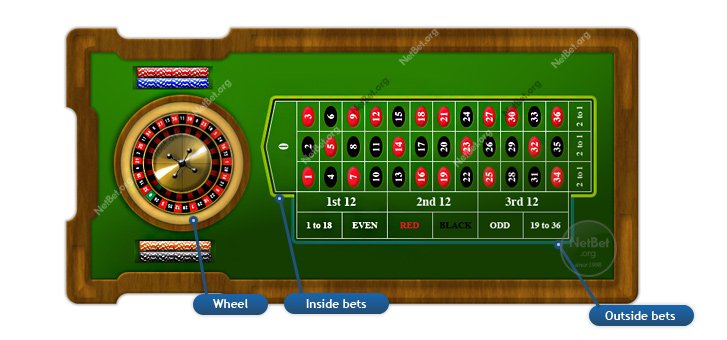 European Roulette Table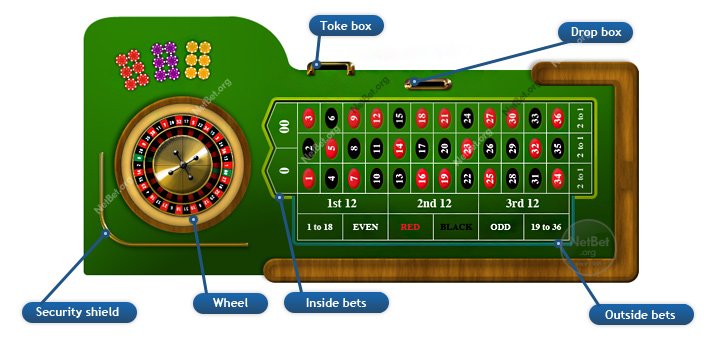 The European roulette has an additional area for call bets (aka announced bets):

Call bets came from an original roulette played in France in the 18th century that's why they are also called "French bets". If you come across a roulette table which has call bets, learn the rules since they can be different in different casinos.
Mini-Roulette Table
Mini-roulette is an online variation of roulette. It has the same rules as the traditional European roulette, but it is smaller than the European table. There are only 12 numbers. As a rule, mini-roulette has a lower betting limit than standard roulette games.