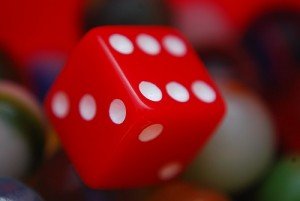 A new dice game is gradually making its way into online casinos around the globe. It's called Sic Bo, and it's very popular in physical casinos in Asia – particularly those in Singapore and Macau. Now it seems that western players will be able to participate in the new game by gambling online. The game is only available at a few online casinos at present, but it's only a matter of time before it becomes more widely adopted
But how does Sic Bo actually work? At its core, it bears a close relation to the well-known dice game craps; the main difference is that Sic Bo is played with three dice instead of two. Players can bet on the specific outcome of the roll (if they're feeling daring) or place more general bets (if they'd rather play the game cautiously). For example, players can bet on whether the total number rolled will be odd or even, or whether it will be 'big' (a roll of 11-17) or 'small' (a roll of 4-10). The addition of a third die means that there are more possible rolls than in craps. On the one hand, this means smaller odds of a specific total coming up. On the other hand, the payout when that total does appear will be significantly higher, so Sic Bo has the potential to be even riskier and more exciting than craps.
Should you be seeking out Sic Bo games? Actually, it might be wiser to wait for the new game to come to you. If you already have an online casino that you use regularly and that you trust, the best course of action is to wait until it adopts the game. After all, it's likely that huge numbers of casinos will adopt the game sooner or later. In the meantime, there's no point playing versions offered by vendors who haven't earned your trust! Most online casinos are safe, of course, but there's need to take a risk on an untried site when the game will come to your regular casino soon enough.
Before you try Sic Bo, we recommend that you revise the exact rules of the game so you can jump right in when you have the chance!