There are a lot of funny, crazy and amazing stories concerning casino gambling. Here are some of them.
All or Nothing
In 1892, a man named Charlie Wells went to Monte Carlo. After playing Roulette for 11 hours, he took home 1,000,000! There are books, films, and musicals about him and his win.
Once Ashley Revell, the UK, sold everything he had for $135,000 and went to LasVegas and placed it all on red. The ball stopped on 7 red, and Revell won $270,600. He gave a dealer $600 as a tip, said, "thank you!" and went home. He used this money to set up his own online poker company "Poker UTD."
Archie Karas, a highroller and poker player, had the longest winning streak in gambling history. In 1992 he came to Vegas with $50 in his pocket, and could manage to turn them into $40,000,000 by 1995. Then he lost it all. Karas says that money means nothing for him!
In 2008, Jessica Agbunag, a baby sitter went to Las Vegas in remembrance of her grandmother's birthday. Twice, she won much smaller amounts on the Wheel of Fortune machines. Then one day, she inserted $16 into a Mega-Jackpot machine and won $2.4 million on her very first trip to Vegas.
Illegal Win
In 2010, Aashish Nanak, an eight year-old boy from India, won half $500,000 in an online Poker tournament. They say the boy is a computer genius and was introduced to computers when he was three. At six he started to play online poker. Aashish was using his uncle's account when he won. The poker website refused to pay out the winnings to Aashish taking into consideration the age of the boy. Aashish's family and the poker room ended up in a New Delhi court, but we don't know the result of this.
Record Break Dice Roll
Believe it or not, Patricia Demauro, a grandmother from New Jersey, rolled a pair of dice 154 times at a craps table without throwing a seven at Atlantic City's Borgata Hotel Casino and Spa. Her lucky streak lasted over four hours. This most successive dice rolls without "sevening out" broke the previous world record for the longest craps roll.
Guinness World Record
Phil Laak is a pro poker player who holds a World Poker Tour title, and a World Series of Poker bracelet. In June 2010 he set the Guinness World Record in longest time spent playing poker in a single session. At first Laak wanted to stay at the poker table for 80 hours, finally he played poker for 115 hours! He played for the world record and finished up $6,766 and donated half of his winnings to the charitable organization Camp Sunshine.
Laak brought off the poker marathon with no stimulants. He didn't have coffee, caffeine, or anything illegal.
Soldier wins £13.2m from 25p online gambling bet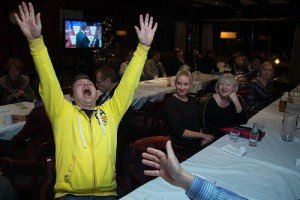 The world of online gambling is full of great stories – people winning huge jackpots, players striking it lucky, gamblers coming back from bad losses to get their money back (and more on top) – but none have captured the imagination of the general public in the United Kingdom quite as much as a recent story concerning a soldier, who won a massive jackpot from a tiny initial bet when gambling online.
The soldier, Jon Heywood from Cheshire, had toured Afghanistan and was working in the United Kingdom when he won the money. Not a usual gambler, Mr Heywood had 25p lying dormant in the account of his favourite online casino, and figured he may as well spend it by making one final, small bet. Little did he know that this bet would win him a grand total of £13.2m, which makes it one of the largest payouts in the history of online gambling and online casinos. In addition, it could be the largest singular jackpot ever paid out for an online slot machine, but this is yet to be confirmed by the authorities.
So what's Mr Heywood going to do with his new found fame and fortune? He's told the press that his first major purchase will be a new car – a Bentley Continental GT in yellow – to replace the clapped out Fiat Punto he currently drives. Other than that, Jon has said that he will pay for the medical treatment that his father so badly needs, as he is waiting for both a heart and a lung transplant, without which he may not survive. He will also treat all of his family and friends to a lavish Mediterranean cruise to celebrate.
This kind of jackpot shows that even those who don't regularly gamble online can stand to make huge winnings from doing so, even on bets as small as 25p. As one of the best casinos online, we have great jackpots on our slot machines, and who knows, maybe you could end up a winner like Jon?