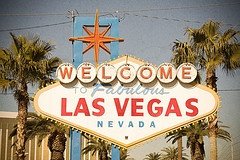 Las Vegas is going on a charm offensive to lure millennials after three months of consistently declining revenues. It's a worrying trend for the world's gambling capital, with online casinos eating heavily into the city's profits.
At the Gaming Expo in Las Vegas, G2 Game Design revealed a plan for a new kind of casino that does away with a great number of the traditional games and replaces them with pinball and other games of skill with money riding on the result.
Company boss Greg Giuffria notes that while slot machines are the biggest moneyspinner in the casinos right now, the under-45s simply don't play them and the whole concept of the casino has to change if Las Vegas wants to get back on its winning streak.
Online gambling vs Vegas
The facts, though, don't really bear this out. Online casinos, using variants on the tried and trusted casino games, are going from strength to strength. The best casino online is available 24 hours a day, from the comfort of the player's own home and so the trip to Las Vegas needs to be about more than gambling.
G2 recognises this fact, too, and proposes a casino that looks more like a nightclub crossed with an arcade and focuses more on the experience than the actual games. Is this enough to drag the public from their laptops and smartphones and into the casinos, though?
While a trip to Las Vegas used to be a fixture of the American gambling scene, especially for those from states where gambling was not allowed or was severely restricted, now it is simply no longer necessary. The whole raison d'etre for Sin City, which was built on the back of casinos, has been thrown into question by the sheer availability of casinos online.
As virtual reality comes to the fore and online casinos become even more lifelike, interactive and tailored to the individual, it's hard to see how Las Vegas can arrest the decline and it will have to seriously reinvent itself. The other way, of course, is for the city's most famous casinos to simply embrace the change, use the cachet of their brand to launch their own major online casino and go head-to-head with the biggest internet players.