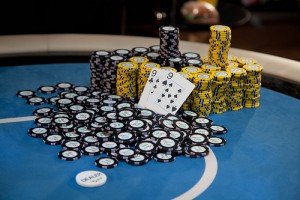 Even seasoned pros can fall foul of 'interesting' practices in the real world of casinos, as poker professional Dani 'Ansky' Stern has proven with a case that is ongoing against Casino Barcelona in Spain.
The casino has been involved in several controversies, with a number of pros having their laptops stolen from the attached Arts Hotel during the European Poker Tour Barcelona. Now details have emerged of Stern pursuing the casino after he claims he was cheated out of more than £12,000 in the casino by a simple reinterpretation of the rules.

High-value confusion
In a high-stakes game, three players were involved in a big pot and agreed to let it run and play the pot twice. Stern won the first game and another player won the second. That's when confusion began to reign, as Stern firmly believed he had agreed to running the multi-way pot twice, so was entitled to a share of the final total. A floor manager initially agreed with him, before he was over-ruled by an executive who essentially decided that the players had let the pot go into the second hand and it was winner take all.
This is an expensive pot to lose even for a professional like Stern, for a newcomer to a casino it would be a heart-breaking and potentially life-changing decision. So make sure you know all the rules before competing and agreeing to anything, either online or in a real casino, because even professionals have made mistakes that have cost them dear.
Knowledge is power
Ignorance is no defense, so make sure you know what you're agreeing to and if you don't know the complexities of gambling then it is usually safer to stick to simple bets until your understanding of the casino world grows. You can also be sure that an online casino has its rules and regulations clearly laid out, which leaves less room for confusion and allows you to study the system to make sure you haven't agreed to something you shouldn't.
Always double check, too, so you have the assurances of the casino that you are playing the game that you think you are. Stern provides a clear lesson for us all: that you really have to know what you're getting into when big money is at stake.