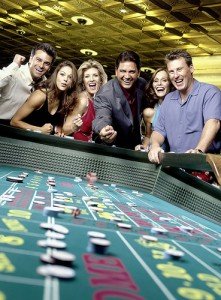 Gambling online can be a deliciously diverting pastime, but can it really be as entertaining as an evening in a real, physical casino? The answer is a resounding yes! It's true that physical casinos offer the bright lights and thrilling atmosphere of a night out, but gambling at home can be just as absorbing and energising… provided you're willing to 'make a night of it'! That's why we've created a guide to show you how to prepare and enjoy the best evening of online gambling you can imagine.
1. Pick the right online casino
Don't just settle for the first online casino your web browser finds for you: look for one that you really enjoy playing at! Try to choose an online casino that offers good value for money and appeals to you aesthetically and thematically in order to make your gambling experience more enjoyable. You should also remember to make sure that your casino of choice is safe and fair. Online casinos that use microgaming software are usually both secure and trustworthy!
2. Choose your soundtrack
Why gamble in silence? You can make your gambling experience more thrilling by choosing the right soundtrack to accompany your online roulette, slots, card and dice games! Before you settle down to play, take a look through your CD collection or digital music library and queue up the perfect background music for your online gambling session.
3. Prepare snacks and drinks
If you're planning to spend most of the evening in an online casino, why not prepare some of your favourite snacks and drinks to keep you fuelled up and energised throughout the evening? Let's face it: you probably don't want to have to break your concentration by getting up to make dinner in the middle of a particularly intense video poker game!
4. Invite some friends over
Almost anything can be improved by bringing a few friends along. Try turning an evening of online gambling into a social event where you and your friends can place bets together and generally have a good time!
Gambling at online casinos can be thrilling as casino-based gambling, provided you know how to get the most out of it. We hope that this guide has given you a few ideas for how to improve your online gambling experience!