Legendary Spanish conqueror and explorer Gonzalo Pizarro, wonderfully brought to life as "Gonzo", has undoubtedly been one of NetEnt's most popular slot stars of recent years. The quirky, moustached adventurer thrills online gamers with his daring escapades and Michael Jackson moonwalk and now, in the new Netent Gonzo's Quest feature, you can join Gonzo on his quest for Eldorado, the lost city of gold. With superb graphics and sound, a high payout percentage and an unforgettable player experience, NetEnt's Gonzo's Quest is sure to become a favourite for new and experienced gamblers alike.
Your Gonzo's Quest RTP for gold:
A short featurette begins your Gonzo's Quest experience. In this brilliantly animated film, you'll discover that Gonzo has discovered a map on a ship and, having dived overboard, is now in the jungles of South America looking for the lost city of Eldorado and its hidden treasures. Your task is to stack up your own "treasure", helping Gonzo along the way.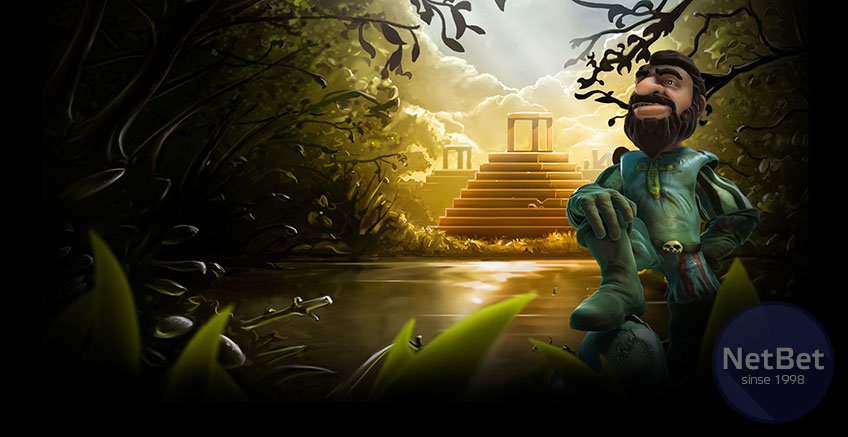 Your betting options for NetEnt free slot spins in UK
With bets ranging from 1 to 50 Euro cents and a maximum of 20 win lines, there are a huge variety of betting options. The total maximum bet is 50 Euros, which might not sound huge but when NetEnt free slots are added into the mix, there is certainly potential for great gains.
Free Spins on Gonzo's Quest Slots – awesome avalanche feature:
One of the most exciting things about NetEnt Gonzo's Quest is undoubtedly the fantastic Avalanche feature. Instead of regular spinning reels, this game has introduced a deluge of symbol blocks that fall down into the reels . Your reel will disappear in an explosion when you have a winning bet and the gaps are then filled with an avalanche of more symbols. These then give you the opportunity to stack up higher winnings as each avalanche you get comes with a larger multiplier.
Some of the special symbols to look out for are the Jokers, which can override other lower value blocks and Free Falls (usually known as free spins) which allow you to win more Avalanches. The sound effects of all of these features are fantastically authentic: we particularly love the thumping of the blocks into place and the explosions, which just add to the great player experience of this slot.