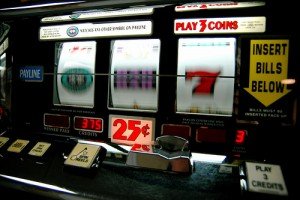 We all dream of hitting it big in the casino, whether it's the best casino online or the most glamorous locations in Vegas. It does actually happen sometimes.
There are real-life, true stories of people walking into the casino, simply pushing a button and changing their life forever.
Here are five of the biggest slots winners in Las Vegas gambling history:
1. £25.43 million, Excalibur
A 25-year-old software engineer won this mind-boggling sum on a weekend trip from his home in Los Angeles. He pumped the equivalent of less than £60 into the machine and beat odds of one in 16.7 million to take home the kind of sum that we simply daren't dream about. Suffice to say, he went home happier than most of the weekend gamblers that hit Las Vegas.
2. £22.35 million, Desert Inn
Cocktail waitress Cynthia Jay-Brennan's story is tinged with sadness. The 37-year-old Vegas resident won the massive $34.9 million payout and just six weeks later was involved in a horrific car crash, when a habitual drunk driver smashed into her car. Jay-Brennan's sister was killed and she was left paralysed in the accident.
3. £17.6 million, Palace Station
A 67-year-old retired flight attendant blew her $100 budget and ended up putting $300 into a slot machine. It was the smartest decision of her life, however, as she walked out of the casino with enough money to pay for the rest of her days and then some. It wasn't even the first time she'd hit the big time, as the woman already had a £450,000 win some years earlier at the same casino.
4. £14.47 million, Bally's
In 2002, Johanna Huendl stopped off on her way to breakfast for a few short plays at Bally's. She put in £100 and came out with £14.47 million, which would be more than enough to pay for a solid stack of pancakes.
5. £13.67 million, Caesar's Palace
In 1999 an Illinois business consultant casually gambled $10 and won on the very first spin, which is an epic stroke of luck, whichever way you look at it.