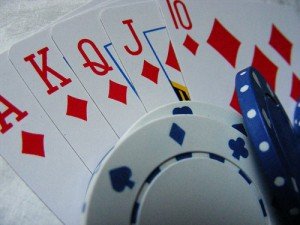 Beginner's luck! It sounds very attractive but don't leave it all to chance – if you've been thinking of trying your luck with online gambling but haven't taken the plunge yet, have a look at our FAQs for beginners.
Why play casino games online?
While it might not have the glamour of strolling the casinos in a dinner jacket, and casually winning at the high rollers table, gambling online has become very popular. One of the main attractions is that you can have the fun and excitement in your own home, and, of course, online casinos are open 24/7, every day of the year.
A second advantage is that while it might lack the glamour, it also lacks some of the pressure of a table. You may not feel confident enough to sit at a table in person, but with the anonymity of playing online, you can take time to learn the games and the techniques without having to perfect your poker face. You can choose the level of play that you feel comfortable with, and also take advantage of the free play bonuses that many online casinos offer while you build up your skills.
Slot Machine Questions – What can I play?
There is a much wider choice online than you will find in a physical casino. Software providers are reputable, checked and verified, and they have a huge range of games for you to play. Roulette, blackjack – all the classics will be there, plus different variations, and you don't have to queue for them! Once you know what you enjoy, browse the casinos and games available and you will soon find the best casino online for you.
Online Answers to Questions: Should I compare the casinos? Aren't they all the same?
Yes, you should and no, they're not! Do make sure they are legitimate before you part with any money or supply any financial details. Quality organisations will be happy to provide information on their background, licences, audit procedures and senior management personnel, and will have contact information readily available. Check out some player forums as well to get a feel for how users rate the sites.
Take up the 'Play for Free' options to see how you find it, and check out the payout methods – the better online casinos will offer a range of options, including cheque and bank transfer. Bonuses will always be available to get and keep your custom, so see what you can get from the different sites.
Once you have found the site you are happy with, try your beginner's luck!