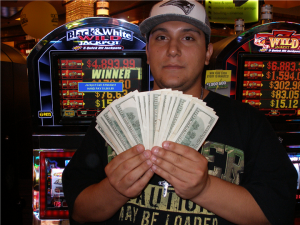 Progressive jackpot games are the most eye catching casino games of all time. Playtech offers more than 25 casino titles that have an ever growing progressive jackpot attached to them. In the past couple of years they have delivered pretty big winners and have made many millionaires.
These games are regularly tested for fairness by independent third party auditing companies and players can easily find their RTP percentages. This also means that the games create regular and legitimate winners and it is not a marketing hype that is made up. Read on to learn more about the best Playtech casino winners and check the live winner feeds from a variety of casinos powered by this software provider.
Biggest Playtech Casinos Winners in History
When it comes to jackpots, in recent times Playtech UK has delivered bigger winners than any other software provider. The following is a list of the top 10 Playtech progressive Jackpot winners in the history of the provider:
The biggest ever progressive jackpot slots payout on a game from this software provider was hit by a lucky South African slot fan. He managed to win an amazing $8,211,861 jackpot playing Beach Life progressive slot on February 12, 2012.
The second biggest jackpot win was hit on the classic progressive jackpot slot Gold Rally. The lucky player won a huge $6,347,118 payout on November 30, 2013.
A lucky player with a username 'Hilton' is the third biggest jackpot winner. He won a huge $5,917,782 jackpot on the progressive slot Beach Life in July 2015.
Heinrich S is the fourth best jackpot winner. He scooped a $4,801,527 jackpot on Beach Life in July 2007.
Beach Life made another multi millionaire on December 17, 2009. This time Luigi C hit a big $4,248,570 jackpot.
One of the top progressive jackpot winners is also Sylvia P. She won $4,188,719 on Beach Life on August 22, 2008.
On December 13, 2015 an unidentified player won a $4,047,097.43 jackpot on the Gold Rally progressive slot.
Another progressive slot, Gladiator Jackpot, paid $3,217,894 to a lucky player in October 2013. The payout is still the biggest ever for the game's jackpot.
Another slot player scooped a whopping $2,698,136 jackpot on Funky Fruits, another excellent progressive jackpot game, on November 4, 2014.
A UK player hit an amazing €2,374,847.22 jackpot on Gladiator Jackpot slot, marking the second biggest payout for the slots' jackpot.
Huge payout on Funky Fruits was hit again for the second time. This time the lucky punter walked away with $2,363,795.