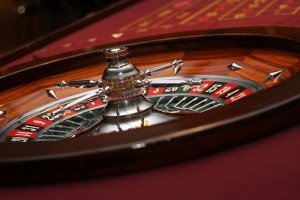 Roulette… we can't even imagine a casino with this game of chances. When we just hear the word "casino", the first association to come to mind is I believe a roulette table with the wheel and special layout with bets. All of us have ever seen films wherein some lucky player bet on a "zero" or some single "number" and beat the casino winning a lot of money. But what happens in reality? What chances do we have to hit a zero or any other single number?
What Chances We Have To Hit In Roulette?
What odds have we got when we play roulette? Let's take for example European Roulette. I don't want to speak about American Roulette since an additional bet, "double zero", doubles the house edge.  The house edge at European roulette is 2,7% while in American roulette it grows up to 5,26%. Therefore let's leave American roulette to those who love it.
Be realistic when you are sitting at the Roulette table and are going to win. The more the bet offers you the fewer chances you have to win it. Thus, a straight up bet (when you make a bet on a single number) has 36:1 odds against winning while any even money bet (red or black, odd/even number) offers 19:18.
You may also notice roulette does not pay what the bets are worth. For example, an even money bet should have 50% odds of winning, but its average winning percentage is just 48,65%! It means in the long run you will win 48,65% and lose 51,35% of your bets on average. The same happens with other bets as well. All this is due to the odd number added to the wheel which is "zero", hence the casino advantage. The average winning odds on other bets are as follows:
Deposit Time
Withdraw Time
After Approval


Accepted payment methods:


Stick To Strategy
So, if you don't want to go broke in roulette, strategy is an essential thing. When you are new to roulette, you may be fascinated with the number of bets, coloured chips and other things, therefore you will make many different bets. You may think you increase your chance of winning, however, in fact you boost the casino edge. You'd better:
Play only a European Roulette.
Play only the outside bets, for example, red/black, odd/even, high/low for each spin. Outside bets pay out 1:1 and cover 18 of the 37 possible combinations.
Place two equal bets on two outside bets: one bet on an even money bet and the other on a dozen/column which pays 2:1. For example, you bet on red and on the middle Column, which has eight black numbers, thereby you bet on 26 numbers, and four numbers you bet twice. When you spread bets like this, you increase your chances of winning. This strategy allows you to have fun and keep afloat. However, don't wait for big wins.
You can also try out your strategy playing for free at first.
Remember, roulette is not the game wherein you will win for a long time. If Lady Luck smiled on you and you won quite a big sum, the best strategy is to grab your money and go away.