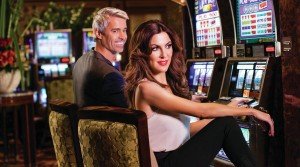 When we cross the threshold of any brick and mortar casino or log into our favourite online gambling venue, we hope Lady Luck smile on us. We all want to win. That's why we invent different amulets and believe in signs of destiny. We wear lucky clothes or take any things we believe are lucky with us when are going to gamble. You can see in the casino players with crosses on, rosary beads. They're wearing clothes with religious images, and there are those who are praying out loud.
Many players do their good luck rituals. Some kiss a chosen slot machine, clean it and talk to it. They believe if they are kind to the slot, it'll be kind in return and gives them to win. Others believe they can hypnotize a machine or a deck of cards to their favour.
Famous Players Charms
Daniel Negreanu, a well-known poker player, only eats meals his mother cooks for him during big tournaments because he believes it brings him luck.
Dan Harrington, 1995 World Series of Poker (WSOP) winner and a member of Poker Hall of Fame, has his lucky green Boston Red Sox hat on whilst he's waiting for the flop.
Kun Dollison, a three-time WSOP bracelet champion brings a giant mechanical mouse with blinking eyes.  Sometimes this toy walks around the table.
Doyle Brunson, a member of the WSOP's Poker Hall of Fame, thinks women are bad luck. This famed pro player has a card protector with Casper, a Ghostbusters logo, on it.
Sami Farha, 2003 WSOP second prize winner holds an unlit cigarette in his mouth while gambling.  If he loses, he changes the cigarette.  The weirdest thing is that he doesn't smoke.
Peter Muller, a pro poker player, took his dog with him to the poker tournaments.  He believes the dog helped him to be the 4th in the 1998 WSOP.
Simon Trumper is a UK poker player and the winner of Late Night Poker series 2. He caps his cards a pair with gold and diamond aces.  This player earned over $1 million while playing poker.
John Giannos, director of player development of the Golden Nugget, takes with him a red envelope he was given 20 years ago.
Johnny Chan, called "The Orient Express", won 10 WSOP bracelets. He can often be seen next to an orange thing such as an orange or wearing an orange T-shirt.
Humberto Brenes, World Poker Open champion, often takes a toy shark with him to the poker table. He believes this good luck charm brings him luck.  Thanks to this amulet he received a nickname "The Shark."