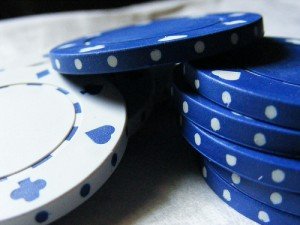 James Bond's favorite casino game is still a mystery to most of us, so before you step into this game at the best casino online, or even one of the many new microgaming casino games that offer a simplified version, you should know what you're getting into.
Now while it looks scary, Baccarat is a good game for a novice as it offers a very low house advantage and doesn't really take vast amounts of skill or statistical knowledge.
Baccarat Card Game basics
There are two distinct options when it comes to Baccarat: Big Table Baccarat and Mini Baccarat. Big Table Baccarat is often limited to high-roller rooms in the real casinos, but you can find an online version that doesn't require a tuxedo or a limitless credit line with the house.
When it comes to the gambling, it's disarmingly simple. There are three bets you can make; on the banker, the player or a tie. If you're looking for some inside information, don't bet on a tie. It does happen, but the house advantage on that one is 14.3%; that's just too big to base a strategy of any kind around. Occasionally there's a 'Pair Bet' circle, too, which you should ignore for the same reason.
Best way to win Baccarat
So really there are two bets, the player or the banker, and the whole basis of the game is to decide which hand will end up closer to the combined total of 9. Yes, that's it. It's closer to Blackjack than anything else, so if you're comfortable with the age-old game of 21 then you can wrap your head around Baccarat too.
Once the bets are down, the dealer places two cards face up for the banker and two for the player. If the sum is greater than 10 then the 10 is disregarded and the remainder is used, so a 9 and a 7 will equal simply 6. You cannot bust.
Betting Systems for Baccarat
Face cards and tens count as zero, Aces count as 1 and if the player has less than 5 then they will receive one more card. It's really that simple.
OK, it's not, there are lots more rules, but this is the essence of Baccarat. It's a simple game you can pick up and play, with a low house advantage and good odds of winning. There isn't a huge strategy you can employ to tip the odds in your favor and it's more of a pure game of chance.
So if you want to play James Bond for a day, don't be afraid of Baccarat. It's really not that complicated.